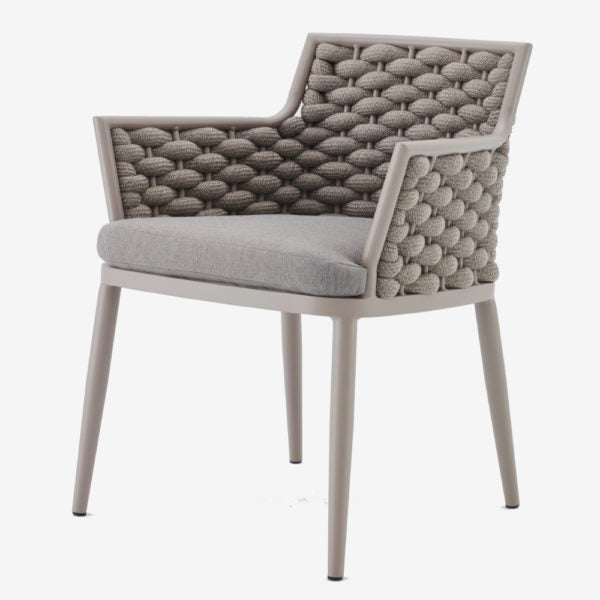 Palma Dining Chair
Garden District Miami
Regular price $600.00 $425.50 Sale
The Palma Dining Chair is part of our Nautical inspired dining and living space Collection.

It has Powder coated Aluminum like our other sets because that is the strongest and lightest material available for outdoor furniture and it makes them uniquely strong against rust, moisture and extreme weather safe.  What makes it different is that instead of HDPE we used Commercial Marine Grade Rope for this set. What is CMGP you ask? It's a special organic rope that is similar to the ones used to tie ships, its texture and strength are unparalleled, but they are also waterproof and mold proof because we used genuine Commercial Grade Marine Rope with Heavy duty rubber inside. Its pet safe, environment safe and extremely durable. It wont tear apart with extensive use and its very durable and sturdy.
Dimensions (D x W x H): 24 x 23 x 33
SKU: SP70-DC
Please note chairs are sold by unit to meet dining needs.
Recommendations:
 35 x 35 x 30 table will need 4 chairs

60 x 60 x 30 table will need 6 chairs
80 x 40 x 30 table will need 6-8 chairs
 Features
Acrylic outdoor material for cushions included
Powerful CMGP or Commercial Grade Marine Rope for extra support - Taupe color

Organic shape that fits any style
No assembly required.
Stationary sturdy design to be kept outdoors thru all types of weathers safely and without withering away with use.
Durable UV protected material to prevent sun and weather damage
Great for backyard and poolside.
Note: Taupe rope and cushion , grey frame

Local Delivery / Shipping: Freight for shipping will be quoted & sent on a separate invoice once the address is confirmed after initial sale.
Delivery is South Fl available for a fee. Please feel free to call ahead to receive shipping/freight quotes or the invoice will be sent separately after initial set purchase.